About Mahesh Raj Dhakal
About Mahesh Raj Dhakal
I graduated in Diploma in Culinary Arts from GATE College in 2008. I was one of
the members of GATE's initial graduates. GATE - Because I Care! Is a real slogan
indeed. I learned my basic cooking skills at GATE, which was taught in a real industrial
environment. The sound knowledge of HACCP along with the use of utensils was
important in my growth. I am really thankful to all my teachers and especially to Mr.
Khem Lakai and Mr. Sandeep Shiva Khatri and I am proud to say that I know I would
not be who I am today without GATE. I am proud to say that I look forward to share
my knowledge & experience to GATE students one day.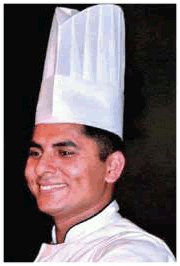 Achievements
• In Nepal I worked at Organic Bistro and Babarmahal Revisited.
• Moved to Yas Hotel Dubai and was introduced to Michelin Star Chefs Atul Kochhar
and Vineet Bhatia.
• Demi Chef De Partie at JW Marriott Hotel Dubai. It was the best experience in my
career path.
• Currently Chef De Partie Hilton Labriz Resort & Spa, Seychelles
Secret of Mahesh's success career:
"I am a hardworking, pro-active chef with an upbeat and positive attitude, who is
passionate about food and quality. Possessing excellent organizational skills, smart,
highly efficient and methodical with a good eye for detail. Having a good team spirit,
deadline orientated and able to efficiently manage kitchen operations and also
supervise staffs".